Installation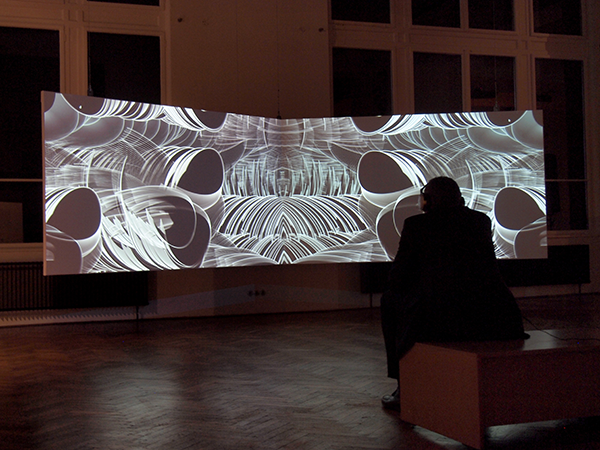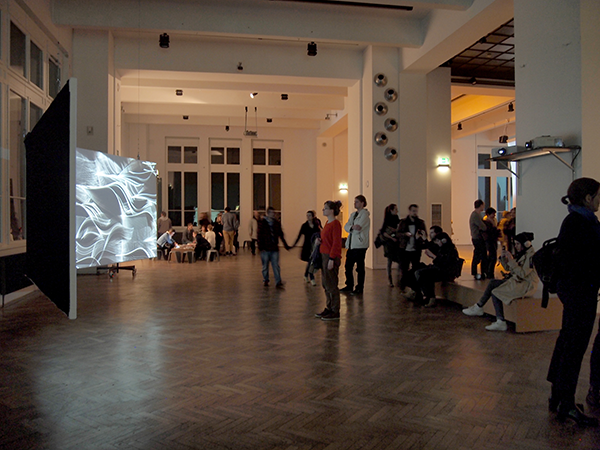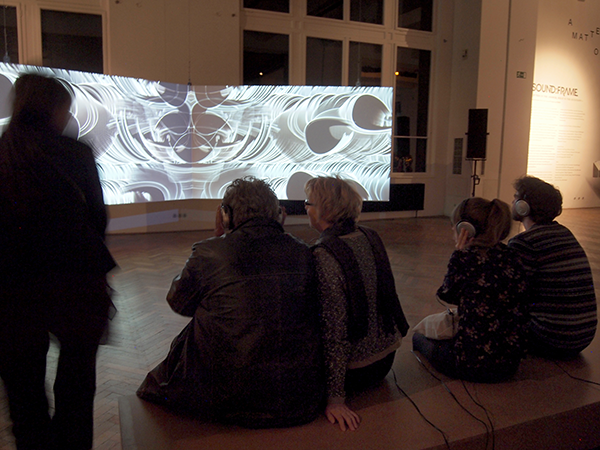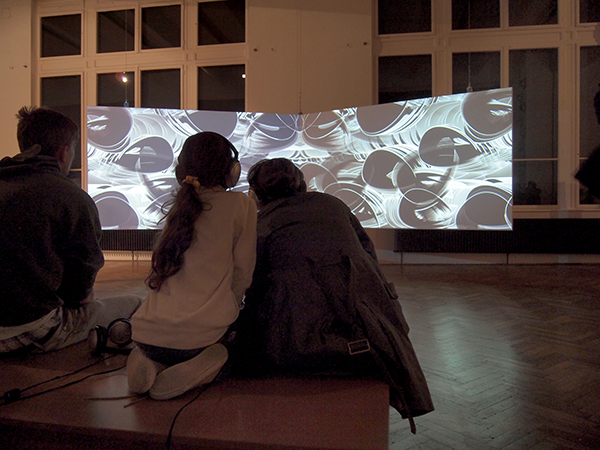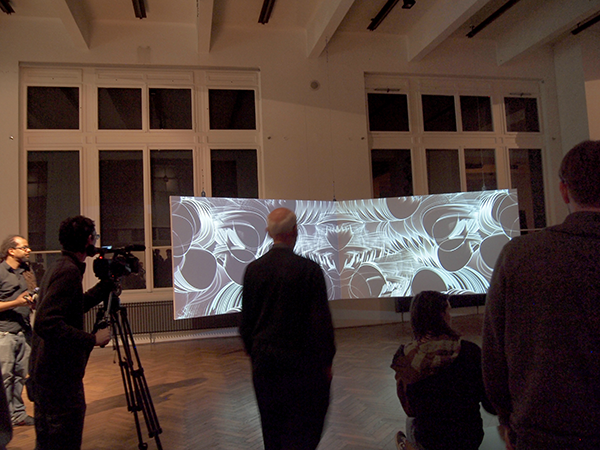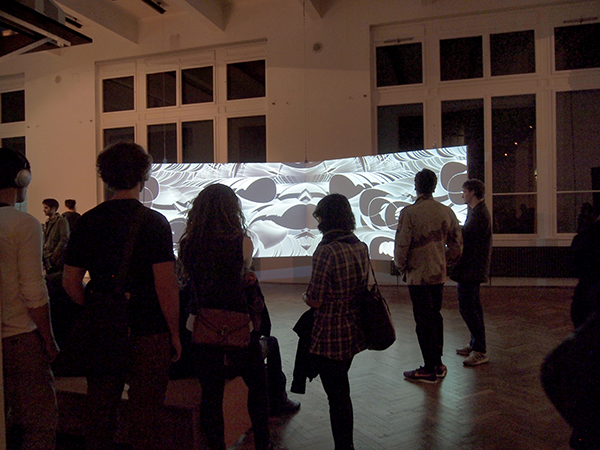 Exhibitions
Monochrome
curated by Ceren & Irmak Arkman
Akbat Sanat, Istanbul, Turkey
-> exhibition booklet
2015/12/16 – 2016/02/13
Algo-Rhythms
Sonos Studios – Los Angeles, US
2014/07/17 – 2014/08/25
Digital Graffiti at Alys Beach
judges: Lucia Fishburne, Marieanne Khoury-Vogt, Brett Phares, Mark Schnell
Digital Graffiti – Alys Beach (lawns, parks, pedestrian paths, and Caliza Pool), Florida, US
2014/06/05 – 2014/06/07
"If this is the answer, what is the question ?"
curated by Eva Fischer, Gerald Moser
in the scope of the sound:frame Festival (www.soundframe.at)
MAK – Austrian Museum of Applied Arts / Contemporary Art, Vienna, Austria
2014/04/26 – 2014/04/13
Award
2014 Digital Graffiti Curator's Choice Winner
Credits
sound by @c (www.at-c.org):
Miguel Carvalhais (www.carvalhais.org) & Pedro Tudela (www.pedrotudela.org)
Text ("If this is the answer, what is the question ?")
The Austrian artist LIA – one of the early pioneers of software and internet art – produces digital art, interactive installations and sound art. Her internet projects combine the tradition of drawing and painting with the aesthetics of digital icons and algorithms. Her style is characterized by a minimalist quality with an affinity to conceptual art.
"Transition 89" is an audiovisual cooperation between LIA and the musical group @c alias Pedro Tudela and Miguel Carvalhais. @c created the composition "89", which serves as the basis for the work, during an artist residency in Portugal, where the musicians were inspired by the ecological, architectural and cultural contexts of the Fujaco region.
In "Transition 89" LIA translates an excerpt from the composition into her visual algorithm-based style. The constant structural mutations, which also give the work its title, are not only a reflection of the compositional processes, but also, much like the soundtrack, a commentary on ecological, social and cultural dynamics.
For the exhibition, "If this is the Answer, what is the Question?" LIA expands the work into the exhibition space of the MAK. "Transition 89 – 2.0" reflects internal visual structures and condenses itself into a monumental, abstract, ornamental network within space.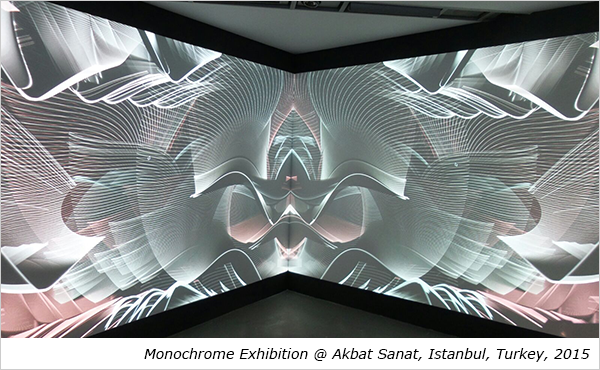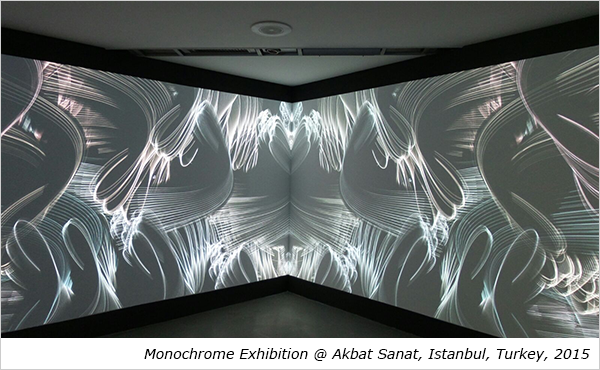 List of Artists @ Exhibition: "Monochrome" @ Akbak Sanat
LIA
Memo Akten
Ouchhh
Quayola
Refik Anadol
Ryoichi Kurokawa
Selçuk Artut
Simon Heijdens
Zimoun
List of Artists @ Exhibition: "Algo-Rhythms" @ Sonos Studios
Dev Harlan
Emilio Gomariz
Floating Point Collective
Hawking Leary
Larry Cuba
LIA
Refik Anadol
Yoshihide Sodeoka
List of Artists @ Exhibition: "If this is the answer, what is the question ?" @ MAK
Karin Fisslthaler
Rainer Kohlberger
Andreas Koller
Lampenschirm – Nuors////02 – Kohlmayr Lutter Knapp
LIA
Veronika Mayer & Gerald Moser & Conny Zenk
Sixtus Preiss
Benjamin Tomasi