Live Visualization for "Goethe-Lieder"
ORF RadioKulturhaus, Grosser Sendesaal
Vienna, Austria
2010/03/21
>>> Videos available on DVD as part of the Hugo Wolf Collector's Edition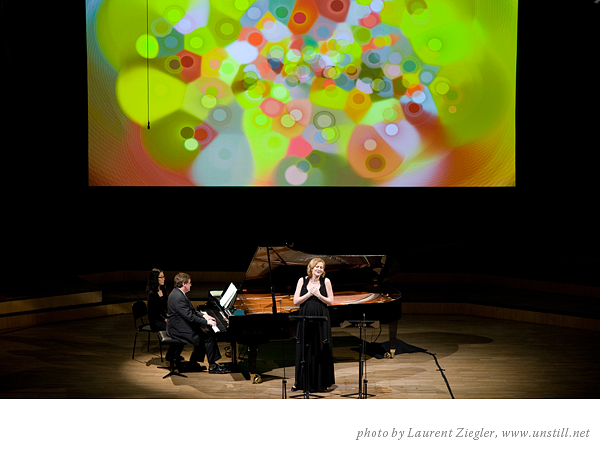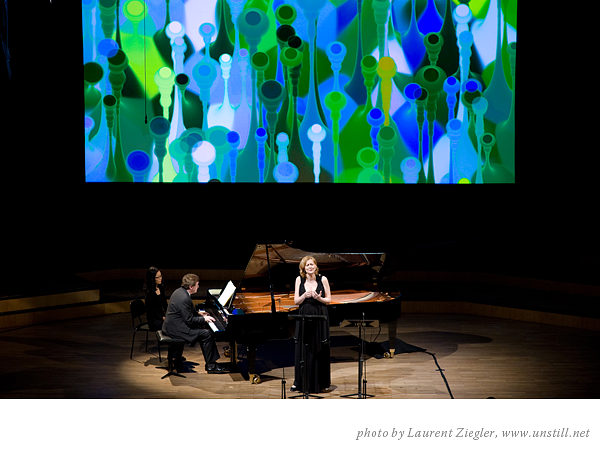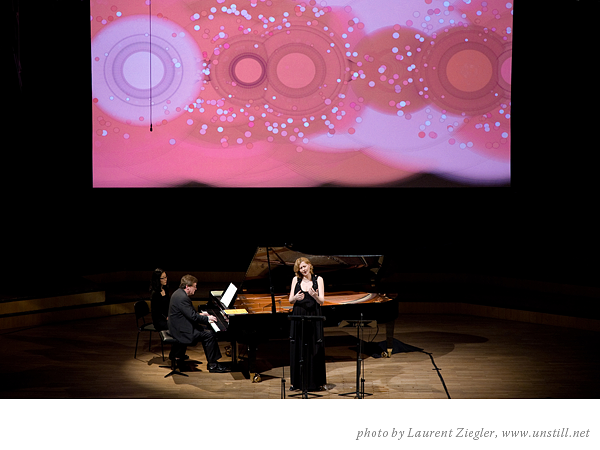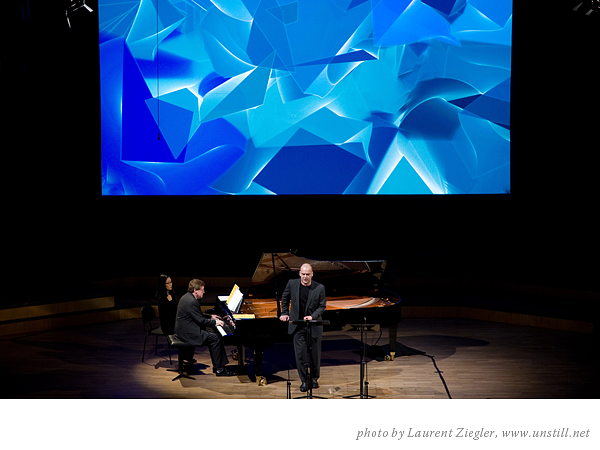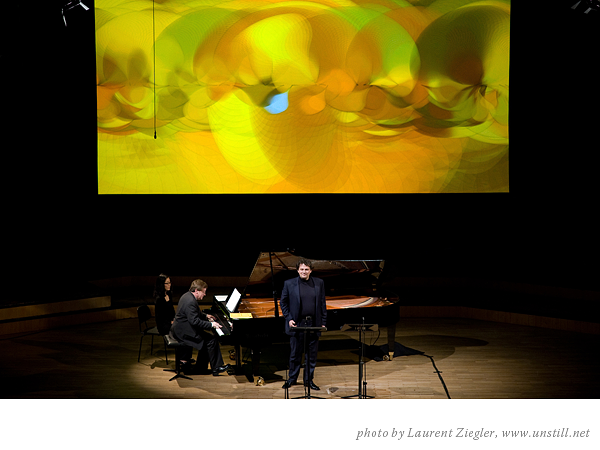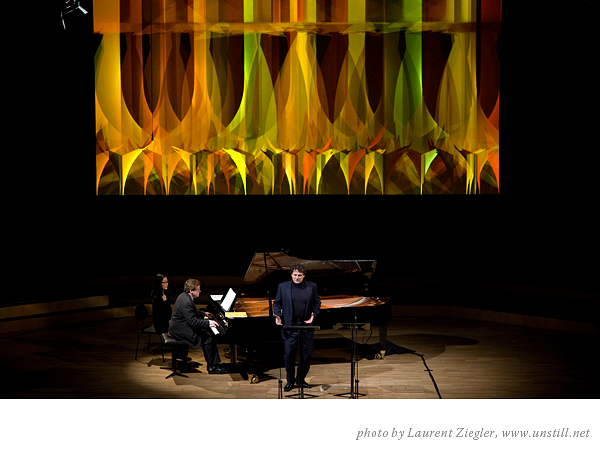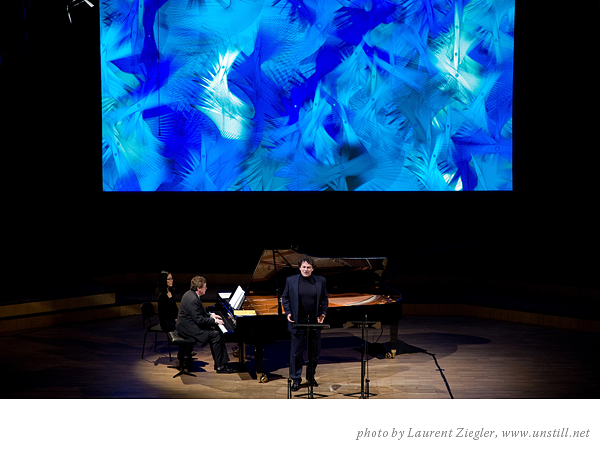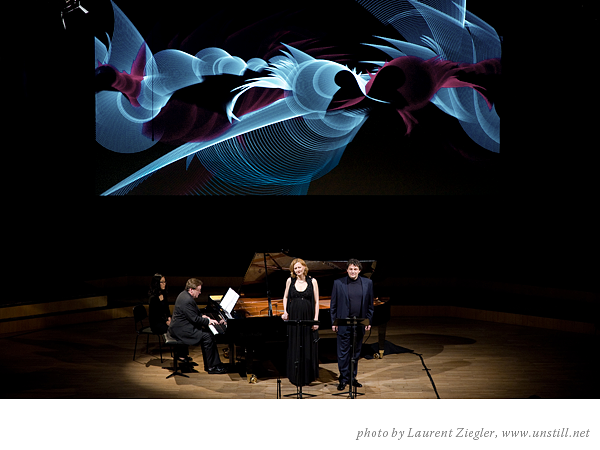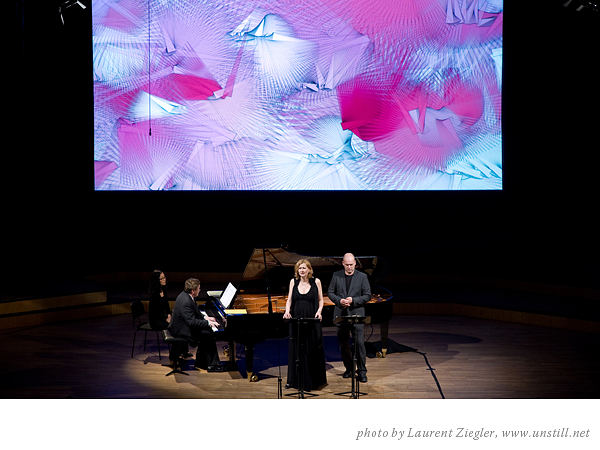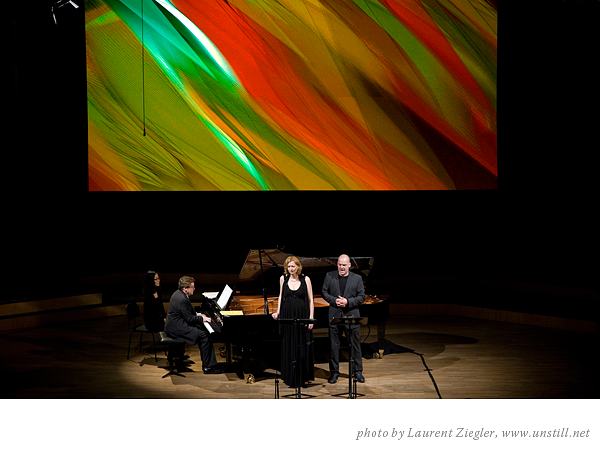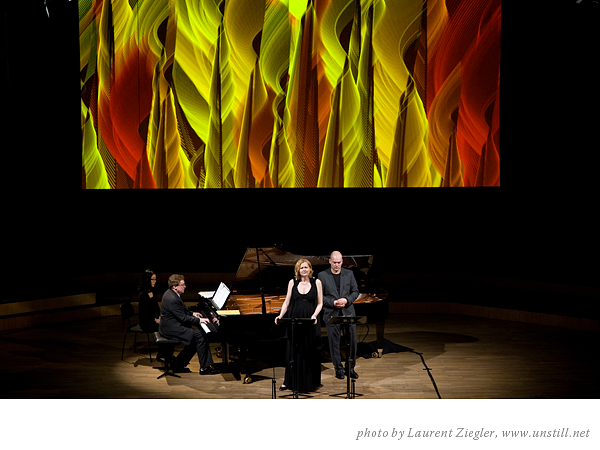 Credits
organized by departure (www.departure.at)
Singers: Hermine Haselböck, Bernhard Berchtold and Florian Boesch
Piano: Russell Ryan
Visualization: LIA
Composer: Hugo Wolf
Texts by Johann Wolfgang von Goethe
Technique
For each of the 33 Songs a separate visual piece was prepared depending on the mood of the music as well as on the content of the texts. The software tool is programmed in a such a way that while the visuals react directly to the sound input, which can be controlled through an audio mixing table, various parameters of the generation of the image can also be controlled via the keyboard.
The software tool was programmed using the open source software OpenFrameworks (www.openframeworks.cc).
Text (by departure)
Lied and visualists explore new territory together
lied lab 2010: hugo wolf festival– from March 12 through 21 at ORF RadioKulturhaus – is a creative laboratory uniting top-level performances of lieder (art songs) and the art of visualization. The festival is held on the occasion of Hugo Wolf's 150th birthday. Although being considered one of the most important composers and innovators of the lied, Hugo Wolf is somewhat neglected by today's music business. The event is held on the initiative of baritone Wolfgang Holzmair – who is famous all over the world for his interpretations of the lied and in particular of the works by Hugo Wolf – and departure. Five evenings will be dedicated to the works of Hugo Wolf, which will be performed by renowned interpreters of the lied with live visualization by leading Austrian visualists.
The starting point was the idea of creating new approaches to great cultural achievements considered difficult to access, such as the lied, by using digital images – especially since ambitious scenes of visualists have emerged in Vienna. Digital visualization offers almost endless possibilities of arousing enthusiasm for challenging music in people from different educational backgrounds, particularly in younger generations. It is all about presenting interesting incentives to look into the lied for the first time or once again. However, lied connoisseurs should get their money's worth as well, as dealing with the subject persistently and in a "lab" kind of way will give rise to novel art forms that broaden and enrich the cultural spectrum.
The festival presents leading visualists, whose works offer a wide range of artistic approaches, and outstanding performers of the lied. The performers are Austrians or live in Austria and share a special dedication to the artful lieder of Hugo Wolf.
The festival is held by departure in cooperation with ORF RadioKulturhaus; musical curator is Wolfgang Holzmair.