Working on digital art since the early 1990s and very active as a live visuals artist since 2000, LIA is at the same time an "old school" artist and part of the fresher avant-garde of live visuals. Following a very personal line of work, LIA has managed to consistently improve her performances, keeping them always surprising and innovative, while refusing trendier and easier approaches to performance.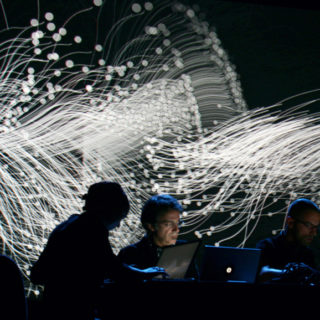 Besides the decades-long running collaboration with the @c duo (www.at-c.org) since 2000, LIA has performed live visuals with several other musicians, like Vitor Joaquim (since 2005) and Emi Maeda (since 2006), she has performed with the orchestra of Linz, at the Brucknerhaus, and the orchestra of Barcelona, at L'Auditori during the Sónar festival. She has performed in some of the most important festivals and venues for contemporary experimental arts, as Ars Electronica, Dissonanze, EMAF, La Casa Encendida, Lovebytes, ICA, Mutek, NAME, Offf, Pixelache, Sonar, Sonic Acts, Transmediale, Zemos98 and others.
In 2003, LIA was one of the founders of the Crónica media label (www.cronicaelectronica.org), that has since been very active in the production and promotion of audiovisual digital artistic creation. Besides her ongoing artistic practice, with both online and offline works, LIA's live visual collaborations have bred a series of video works that have been played in several art and film festivals all over the world.